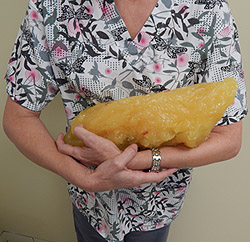 Ten pounds of fat is bigger than the average newborn baby!
Lose weight with WeCareMD weight loss solutions.
WeCareMD offers a comprehensive weight loss program that is medically supervised by a Board Certified Family Practice Physician. We have experienced medical staff available five days a week to answer questions and address your concerns. Our strategic weight loss solutions focus on increasing your metabolism, breaking food addictions, reducing body fat, maintaining lean muscle and netting Positive Results!
Let's get started today! Simply complete the
Weight Loss New Patient Forms
in advance and bring them with you to your first visit. Call us at
(770) 943-7808
to schedule your weight loss consult exam and begin the road to positive weight loss.
To get you started, you will receive a personal consultation that is designed to determine which weight loss program is best suited for you. The consult examination is very thorough and includes the following:
Medication and Health History
Vital Signs
Weight and Body Measurements
BMI (Body Mass Index)
State-of-the-art Q 4 Body Composition analysis that measures the percentage of lean body weight, water and fat
Following the consultation examination, both you and Provider will decide which weight loss program is the best fit for you. The consult examination fee is $79. It is non refundable, and will be applied towards the cost of your weight loss program. WeCareMD offers a variety of effective weight loss solutions including the FDA approved HCG (Human Chorionic Gonadotropin) Diet.

Choose from one of our most popular weight loss solutions below:

HCG (Human Chorionic Gonadotropin)
Lose up to 34 pounds within six (6) weeks utilizing our HCG program. HCG is a safe and naturally occurring hormone that is FDA approved. HCG acts on the hypothalamus to decrease hunger and cravings and also allows for rapid weight loss without jeopardizing muscle mass. Additionally, HCG has been shown to aid in the reduction of abnormal fat stores. Therefore, patients are more likely to see a loss of inches from the abdomen, thighs and hips.

Appetite Suppressants
WeCareMD uses various FDA approved prescription appetite suppressants that help you curb hunger and control portion sizes. Prior to prescribing any medication, our providers review your medical history to help ensure that appetite suppressants are a healthy choice for you.

Lipotropic and Vitamin B-12
Injections speed up the removal of fat within the liver, boosts energy, increases activity levels, improves sleep, relieves stress and can combat moodiness. Combined with our weight loss programs, Lipotropic and Vitamin B-12 Injections will enhance your weight loss results!