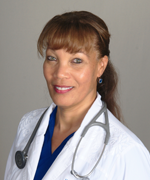 Dr. Mary Dailey-Smith
Dr. Mary Dailey-Smith is the President and Founder of WeCareMD, and she has been Board Certified in Family Practice since 1998. Dr. Dailey-Smith conducts an extensive training program to ensure her Board Certified Providers have a clear understanding of all procedures and the high level of standards set forth by the practice.

Upon graduating from the UCLA School of Medicine, Dr. Dailey-Smith completed her family practice residency at USC California Medical Center in Los Angeles. After residency, she served her country as a physician in the United States Air Force earning the rank of Major. Dr. Dailey-Smith is a member of the American Academy of Family Physicians, American Board of Family Practitioners and the American Academy of Pain Management.