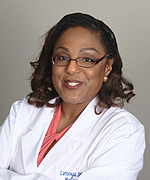 Dr. Latonya James
Dr. Latonya James is a Family Practice Physician and the newest member to join the "WeCareMD" Medical Group at their new Marietta location. She is a graduate of Spring Hill College in Mobile, Alabama. She attended and graduated from the University of Alabama Birmingham Medical School in 1998. Dr. James completed her residency training at LSU in New Orleans, LA. She has been practicing medicine since 2001.

As a Native of the Gulf Coast area, Dr. James enjoys treating many disease processes that affect the Southeast Region, such as Hypertension, Type II Diabetes, and Obesity. She is experienced in many diverse practice settings and has a strong interest in managing Depression/ Anxiety Disorders in Adults. Her patient population consists of adolescents, adults, and geriatrics. She provides compassionate care while motivating her patients to actively participate in their health care management. Moreover, she possesses a unique ability to communicate with persons from diverse socioeconomic backgrounds.

Dr. James is a member of the American Academy of Family Physicians, the Georgia Academy of Family Physicians, and the American Medical Association.

Most insurance plans are accepted and she is currently accepting new patients.