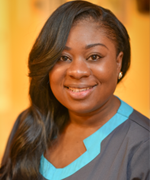 Milouse Noel, Back Office Manager
Milouse Noel received an Associate of Science/Medical Assistance degree from Keiser University, and she is currently pursuing a nursing degree at West Central Technical College. Born in Haiti and raised in Fort Lauderdale, Florida, Milouse relocated to Georgia after almost six years of practice as a Medical Assistant.

Milouse joined WeCareMD in 2008. In her role as Back Office Manager, she is responsible for monitoring patient's physical conditions, managing medical staff and training personnel on clinical documentation, basic x-ray technology, vital signs, immunizations, injections and electrocardiograms. Her goal is to meet and exceed patient's needs and expectations.